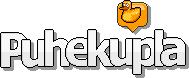 News Reporter [CLOSED]
The news reporter role is very vital to
Puhekupla
, as this is what our mission is, to be the best Habbo fansite and provide the community with the latest Habbo news and updates. Graphics experience in this role is a bonus but not necessary. Can play any hotel. Must be fluent in English language (but not vital).
Requirements
- You must speak English, English as a second language is fine
- Must have correct spelling and grammar
- Act professional and mature
- Willing to put in 3-4 days of work
- Creative and a close eye to detail
Copy & paste the following details.
- Habbo name
- Puhekupla name (necessary)
- Age (for internal use only)
- Which hotel do you play (can be from any hotel)
- Do you have previous experience with another fansite? If so, please include website URL & job position
- How often are you on Habbo?
- Do you have writing experience? If so, please write a short paragraph about a story you'd possibly write for Puhekupla. If not, please do your best at writing one!
HOW TO SEND YOUR APPLICATION
- Copy all details for the job you've selected
- Paste them into the "Contact" form –
click here
(fill in name, e-mail & subject should be Puhekupla Application)
- In the main field box, paste the copied required details
- Fill out questions in as much detail as possible
More information -
Twitter
or with our reporters
Puhekupla Team