Love Elves? This is the PERFECT bundle for you. It contains both an Elven Bed AND a Rocking Chair as exclusive furni!
Day of the Dea.d bundle
Spooky skulls, bright flowers and traditional altars fill this Day of the Dea.d bundle! Gather your friends and family and come together to celebrate the Habbos of the past and sacrifice your soul on top of an exclusive Sacrificial Altar Bed furni! Badge included.
Viking Fleet Bundle
Viking raiders! Pull up the anchor and set sail; there are villages to burn. Contains an EXCLUSIVE Blacksmith's Hut furni
Smuggler's Hideout Bundle
Guard your loot with your LIFE. This bundle has the perfect addition - an exclusive Smuggler's Lookout furni. Don't miss it!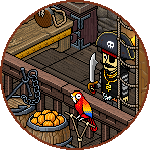 Twisted Castle Bundle
This spooktacular bundle comes packed with all the poison apples, metal fences and turrets you could desire, and it EVEN includes an exclusive badge. Available via direct purchase + credits.
Habbo General Hospital Bundle
BEEP BEEP - Calling Dr. Habbo! Welcome to Habbo Hospital, where the panic is real but the injuries are pixelated. Lose a hand in a Dragon attack? Habbo Hospital can help! Drink too much Bobba Juice and feel sick? You're at the right place. This medical room bundle has it all - from the plush waiting room to the gory surgical theatre - its all here and ready for action! Includes badge. Hurry, Doctor!
hosp_c19_drinksvend
Creepy Dressing Room Bundle
Including the antique Vanity Mirror furni + ghost furni! With assistance of Jenneben & Frission
Desert Oasis Bundle
Feeling thirsty? Well, as well as water, included in this bundle is an exclusive Emperor Scorpion!
Rattlesnake River Town
Settled by the great Frank Boone, this dusty frontier town has everything for you and your kin folk! From the tumbleweeds to water pumps, you'll have everything a new settlement could desire. YEEHAW!
Superhero Smuggler's Bundle
Plan out your next strike against the bad guys with this awesome bundle. Contains an EXCLUSIVE poster and badge, too!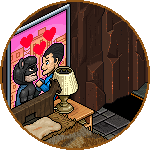 Titan Spacecraft Bundle (Command Centre - Engine Room - Space Laboratory - Sleeping Quarters)
Made up of four parts, each with its own badge! Parts 2, 3 and 4 also have different, MULTIPLE bundle exclusives inside...
badge_name_STY01=Forgotten Attic Bundle
badge_name_STY02=Command Centre
badge_name_STY03=Engine Room
badge_name_STY04=Space Laboratory
badge_name_STY05=Sleeping Quarters
badge_name_STY06=Elf Hangout Bundle
badge_name_STY07=Habbo Forces HQ Bundle
badge_name_STY08=Day of the Dea.d Bundle
badge_name_STY09=Vikings Fleet Bundle
badge_name_STY10=Twisted Castle Bundle
badge_name_STY11=Big Habbo General Hospital
badge_name_STY12=Smuggler's Hideout Bundle
badge_name_STY13=Creepy Dressing Room Bundle
badge_name_STY14=Desert Oasis Bundle
badge_name_STY15=Rattlesnake River Town
badge_name_STY16=Superhero Smuggler's Bundle
badge_name_STY17=RARE Long Wavy Locks
badge_name_RPA02=RARE Orange Parasol