Witch Academy Bundle
Learn the way of the witch.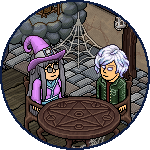 199

90
+ 90


WCV01 (badge)
Witch Academy Bundle
Includes the following items:
hween_c19_bewitchedtable
hween_c19_autumnfloor
pirate_stage
gothic_carpet
hween_c19_bewitchedcauldron
hween13_tile2
hween_c16_webs
hween_c19_smallroof
xmas12_door
hween_c19_bewitchedbed
roombg_stars
hween_c19_claddedwall
hween_c15_tree
hween_c19_bewitchedchair
easter_c18_ivybeam
country_wall
hween_c19_stonewall
gothic_c15_crn
hween_c19_roofcorner
lt_spider
wildwest_light
xmas11_elewood
jungle_c16_light
hween09_floor
xmas12_pillar2
hween_c19_archway
hween_c19_fireplace
hween_c16_bkcase
vikings_wooddivdr
hween_c19_broomstaffstand
hween_c19_crookedfloor
Lote Escuela de Brujería
Pack Academia de Bruxaria
Noitien opisto
Sorcière Académie
Affare Stanza Witch Academy
Heksenschool Bundel
Hexenakademie Bündel
Cadı Akademisi Paketi
---
Witches' Sabbath Bundle
Gather to practice witchcraft and other rites.


WCV02 (badge)
Witches' Sabbath Bundle
Includes the following items:
fireworks_08
hween_c17_bonfire
hween_c19_mistywoodsbg
xmas_c15_mlight
hween13_grass
hween_c15_evilcloud
hween_c15_fire
hween_c17_rat
lm_bigrock
hween_c19_autumnfloor
hween_c19_bewitchedcauldron
clothing_witchrobes
hween_c15_tree
hween_c19_birchtree
dino_c15_log
hween10_tree
track12_mini_torch
clothing_witchhat2
hween_c15_fog
hween13_thorndiv1
roombg_stars
hween14_demon
hween_c19_broomstaffstand
Lote Aquelarre
Pack Sabbath das Bruxas
Noitasapatti
Sabbat des Sorcières
Affare Stanza Sabbath delle Streghe
Heksensabbat Bundel
Hexensabbat Bündel
Cadıların Geceyarısı Ayin Paketi
---
Evil Frank's Office Bundle
This bundle contains a selection of the new Ghost Hunter furni AND an exclusive Evil Frank Bust!


WCV03 (badge)
Evil Frank's Office Bundle

99

45
+ 45
Lote Despacho de Evil Frank
Pack Escritório do Frank Espectral
Pahis-Frankin toimisto
Pack Bureau de Franck Diabolique
Affare Stanza Ufficio di Frank Demoniaco
Kwaadaardige Franks Kantoor Bundel
Bösartiger Franks Bürobündel
Şeytani Frank'in Ofisi Oda Paketi
---
Ancient Jail Bundle
Deep inside the Cursed Caves lies an ancient, abandoned jail. Also included are exclusive Cursed Gibbets! *User made bundle, by Jenneben (NL)*


WCV04 (badge)
Ancient Jail Bundle

99

45
+ 45
Lote antigua cárcel
Pack Calabouço Amaldiçoado
Muinainen vankila
Ancienne prison
Affare Stanza Prigione Antica
Oude en verlaten Gevangenis Bundel
Uraltes Verließ-Raumbündel
Antik Hapishane Oda Paketi
---
Voodoo Bundle
Wade through the foggy swamps, but don't let the Witch Doctor catch you… from skulls on a stick to bats in cages - this spooky bundle is certain to give you goosebumps! Grab this bundle to ensure you don't miss out on the exclusive Corrupted Kitty furni, and of course an exclusive badge!


WCV05 (badge)
Voodoo Bundle

99

45
+ 45
Lote Pantano Voodoo
Pack Vodu do Pântano
Voodoo -paketti
Pack Vaudou
Affare Stanza Voodoo
Voodoo bundel
Voodoo Bündel
Voodoo oda paketi